Recent Admit Examples (identifying information redacted due to confidentiality):
Tiffany W. (1440 SAT)
US Citizen, Asian, Female, Public Health major
Accepted Rice University
*Reference available
Sometimes success is based on understanding the complex enrollment options. Tiffany's dream school is Cornell University. Cornell is unique in that it offers select applicants a "transfer option," but it is only open to a limited group of students. Initially, Tiffany planned to apply as a pre-medical major. We advised Tiffany to change her major to Undecided / Public Health. We created an engagement plan for Tiffany that challenged her to explore Public Health in her local community. These experiences served as the basis for her application story. This simple change enhanced her chance of being offered a "transfer option" from Cornell that essentially guarantees her admission as a transfer after one year at a reputable institution.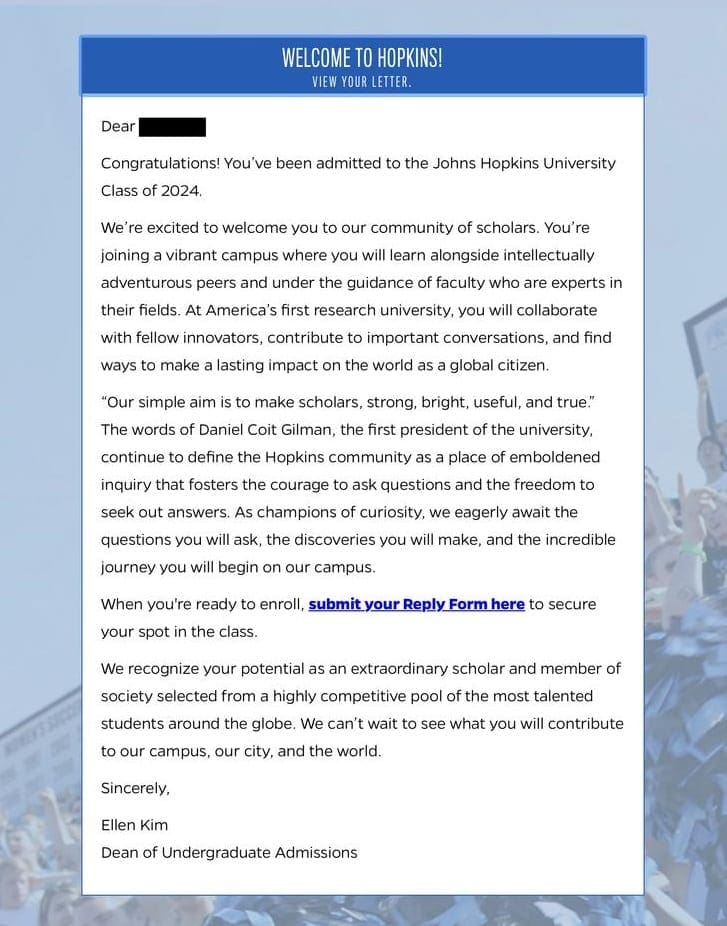 Nancy Y. (1460 SAT)
US Citizen, White, Female, Chemistry major
Accepted Duke University
*Reference available
Nancy had an interest in both economics and chemistry but planned to choose economics. We challenged Nancy to consider an interdisciplinary perspective and combine the two subjects in a local, community-based, exploration about the economics behind recycling. Nancy eventually developed a scientific, economic, and political perspective behind how her local town manages recycling. We challenged Nancy to speak about her findings at a local town hall and it helped illustrate a sense of academic activism. Nancy will be attending her first choice, Duke University.

Tony P (1480 SAT)
International, Asian, Male, Biology major
Accepted University of Pennsylvania
*Reference available
Tony applied as an international student from China. He had done some rather significant research at a Chinese University on "LRK2" gene mutations. When we reviewed his first draft personal statement it read like a research paper. Our challenge with Tony was getting him to understand his audience. Most admissions readers are female and educated in the humanities. After a number of conversations and drafts, we were able to turn Tony's research paper into Tony's story. Our second challenge with Tony was getting him to understand how to strategically choose an early decision school. But the effort paid off when Tony received his Ivy League offer from the University of Pennsylvania.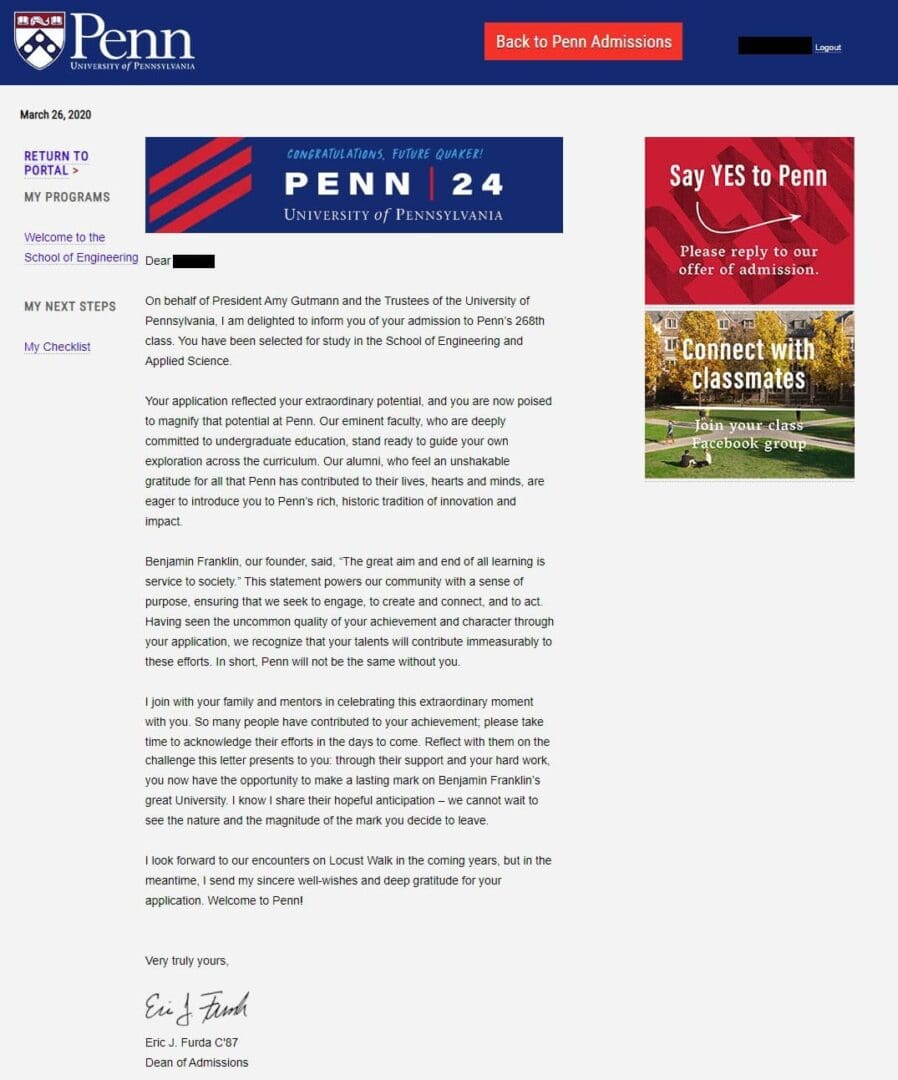 Ashley S. (1560 SAT)
US Citizen, White, Female, History major
Accepted Stanford University
*Reference available
We worked with Ashley for two years before she applied to college. During that short period of time we challenged her to illustrate her academic strength through more than simply an exemplary high school transcript. We discussed options and she eventually was selected as a finalist in a major psychology national research competition. Further, we challenged her to be very active in her local community. She did things like surveyed social workers about their work, their resources and their challenges. After spending many hours conversing with community activists she began to lobby local political leaders to support more funding for social programs. All of her hard work paid off when she was offered admission to Stanford University amongst a host of other highly selective universities.